Buying a book

Marguerite and Terry Broadbent have been researching and writing biographies of composers and pianists over a 20-year period. Their work has been a labour of love, inspired by the talents and personalities of the musicians themselves, which these books bring to life.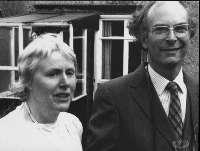 Marguerite and Terry Broadbent
Leginska - Forgotten Genius of Music explores the wide-ranging achievements of Ethel Leginska in illuminating depth; the other books paint fascinating pen portraits of their subjects.
The books featured on this site can all be bought directly from the publisher. Please send a cheque made payable to T. Broadbent to:

T. Broadbent,
49 Grange Park Avenue,
Wilmslow,
Cheshire SK9 4AL,
United Kingdom.
Books currently available:
Leginska - Forgotten Genius of Music: £19.20
Great Pianists of the Golden Age: £18.50
An Edwardian Quintet: £6.50
The Melody Lingers On £10.50
These prices include postage and packing. Non-UK customers should send the equivalent amount in their own currency. We regret we cannot accept payment by card.
If you would like any additional information, please contact terry_broadbent@yahoo.co.uk
The books are published by the North West Player Piano Association, a non-profit-making organisation made up of members who share an interest in player pianos, pianolas and other mechanical instruments. You can visit their website at: http://www.nwppa.freeserve.co.uk