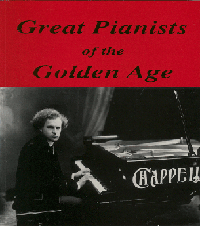 Great Pianists of the Golden Age
by Marguerite and Terry Broadbent
With a Foreword by Vladimir Ashkenazy
In a 15-year study for the North West Player Piano Association the authors investigated the lives of musicians (mainly pianists) who were professionally active during the period 1900-1950. This book celebrates, in the form of carefully-researched biographies, the lives of 25 of the greatest pianists of that era. The biographies are presented in what is hoped is an interesting and readable form, with a brief appraisal of the subjects' special qualities as pianists, and there are many anecdotes.
The pianists whose lives are recalled are:
Camille Saint-Saëns
Vladimir de Pachmann
Teresa Carreño
Ignace Paderewski
Moriz Rosenthal
Ferruccio Busoni
Leopold Godowsky
Sergei Rachmaninov
Harold Bauer
Josef Lhevinne
Josef Hofmann
Alfred Cortot
Ossip Gabrilowitsch
Mark Hambourg
Wanda Landowska
Artur Schnabel
Percy Grainger
Wilhelm Backhaus
Ethel Leginska
Artur Rubinstein
Benno Moiseiwitsch
Myra Hess
Walter Gieseking
Vladimir Horowitz
Dinu Lipatti
With a bibliography, appendices (lists of the pianists' currently available recordings on compact disc and complete lists of their Duo-Art, Ampico and Welte piano rolls in addition to a summary of all their other piano rolls) and an index.
9.5" x 6.5", 412 pages plus Foreword, Preface, etc. and 26 photographs.
ISBN 09525101 0 3
The price is £18.50 (including postage and packing) or equivalent in overseas currency.
To purchase this book, please go to the Buying a book section of this site.