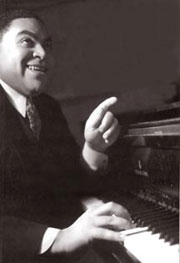 The Melody Lingers On
by Marguerite and Terry Broadbent


This book consists of biographies of ten popular musicians:

1. Stephen Foster
2. Cécile Chaminade
3. Leslie Stuart
4. Scott Joplin
5. Jerome Kern
6. Irving Berlin
7. 'Jelly Roll' Morton
8. Cole Porter
9. George Gershwin
10. 'Fats' Waller

With a bibliography, appendices (lists of currently-available recordings, compositions, shows and films) and index. 9.5" x 6.5". 192 pages. 72,000 words approx. ISBN 0 9525101 1 1. The price of the book is £10.50, or equivalent in local currency (including postage and packing).

To purchase this book, please go to the Buying a book section of this site.