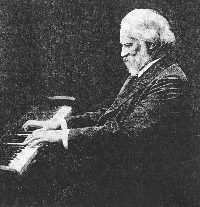 An Edwardian Quintet
by Marguerite and Terry Broadbent
The book tells the life stories of five musicians of the Edwardian era, namely Theodor Leschetizky (the teacher of many famous pianists), composers Edward Elgar, Edward MacDowell and Claude Debussy, and the legendary tenor Enrico Caruso.
The book is 9.5" x 6.5", 92 pages, 30,000 words + appendices, and with five photographs.
ISBN 0 9525101 3 8
The price of An Edwardian Quintet is £6.50, or equivalent in overseas currency (price includes postage and packing).
To purchase this book, please go to the Buying a book section of this site.